As a designer, I worked with a small team at The Star Tribune, the largest newspaper publisher in Minnesota, on a semi-secret project referred to as ProjectM. The goal of this project was to update the mobile version of Star Tribune's website.
This project was also an experiment using an agile-like approach to project management that broke the project into weekly cycles with short deadlines. The lessons learned during the redesign would be used in future planning when it comes time to do a fully responsive redesign of startribune.com.
In under three months we created a complete redesign and launched the updated mobile version of Star Tribune's website.
Throughout the redesign we used the real, and always current, content to design in browser and test on multiple devices.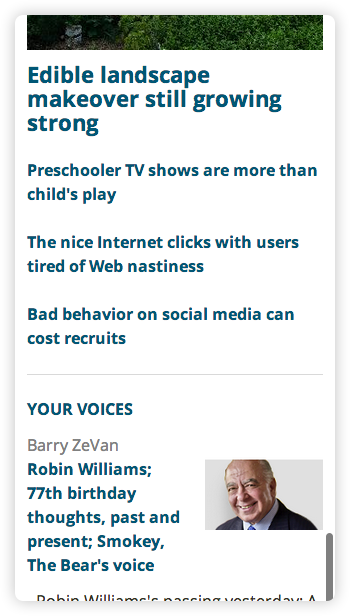 One of the business goals of the redesign was to encourage people to read more articles. I chose fonts that were designed to be read on screens and created a harmonious type scale—that uses a common baseline—to ease readability. I also created a clear visual hierarchy that makes it easy to scan for information.
Encouraging Continuous Reading of Related Articles
At the end of each article is the heading and a link to the next article in that section. Clicking on the link seamlessly loads in the next article so a reader can keep reading through the recent and related news without having to jump back to the section front.
A Pattern Library of Reusable Elements
I worked with the lead designer to identify common elements and define a set of modular components that are reused throughout the site. This reuse of patterns helped maintain visual consistency from page to page, kept the CSS file small and tidy, and minimized the load times on slow network speeds.
It was an amazing opportunity to have an impact on the redesign of an editorial site that gets over a million visits per month. I'm proud of the work and improvements that were made and the groundwork that's been set for future updates. Check out The Star Tribune site for yourself on your handheld internet connected device.